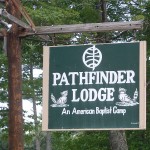 Accommodations at Pathfinder Lodge are rustic. Cabins and semi-private buildings are available throughout the camp. Program space is provided in our dining hall, craft lodge, and Foulk Lodge.
Our season begins in early May and ends in October. The Dining Hall and some cabins are open for an extended season. Linens and bedding are not provided.
Limited space is available for tents, trailers, and RVs.
Call 315- 692- 4862 or email
vpccministries@gmail.com
Day Use
Full Day 8:00 am-6:00 pm
Half Day 5 hours within above time frame
*no meals provided
| | | |
| --- | --- | --- |
| | Full Day | Half day |
| Dining Hall | $300 | $150 |
| Ball Field | $200 | $100 |
Optional Meal Plans
Full Meal Plan:
Includes 3 meals and 1 snack
Coffee, tea, hot water, and cold water provided throughout the day
$40 per day per person ages 13+
$30 per day per person ages 5-12
Children ages 4 and under eat FREE
Single Meal Plan
| | | |
| --- | --- | --- |
| | Adult | Child (5-12) |
| Breakfast | $13 | $10 |
| Lunch | $10 | $8 |
| Dinner | $15 | $12 |
| Snack | $5 | $5 |
Accommodations
Space for tents
$25 per night
Cabin
$75 per night
Cabin with Attached Bathhouse
$150 per night
The "Chalet"
$150 per night
Foulk Lodge
(Sleeps 8; 3 Bedrooms plus meeting room w/kitchenette
$300 per night
Fairbrother
$200 per night
Barnes
$200 per night
Recreational Facilities (this fee only applies when renting
over night accommodations otherwise Day Use Fees apply)
$100 per day
The use of drugs, tobacco, alcohol, firearms, and profane/abusive language is prohibited.
VPCCM is not responsible for accidents, damage, or injury to our guests or for loss of money or valuables of any kind.
Vick and Pathfinder Camp and Conference Ministries reserves the right to refuse any individual or group access to our grounds.
Any individual or group denied access will receive a full refund of any monies paid, unless their refusal was the result of breaking our stated or written rules and guidelines.